I was born on the 24th of April 1995 in Ehringshausen, a small town near Gießen in Germany.
Everybody said I was a pretty baby.
My mother had a totally normal pregnancy, but I was a little too lazy and didn't want to come into the world , therefore, I came 19 days after the expected date.

The delivery wasn't exactly easy, but, when I was finally came,
everything was good and after 5 days I was able to leave
the hospital with my mother.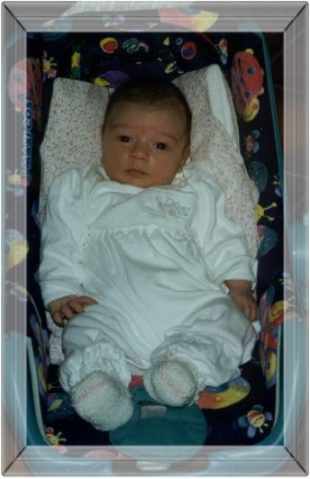 The first sign was that I had a problem with nursing.
That means, my sucking reflex was very weak when
it came to nursing.
But, after a short time, I got used to it and we had no
more problems. The nursing just took a little longer.
The next few months went by without any noticeable problems.
I gained weight very fast, was a very good, loveable baby.
I cried very seldom, and then, only , for example;
when I had a stomach ache , or some other problem.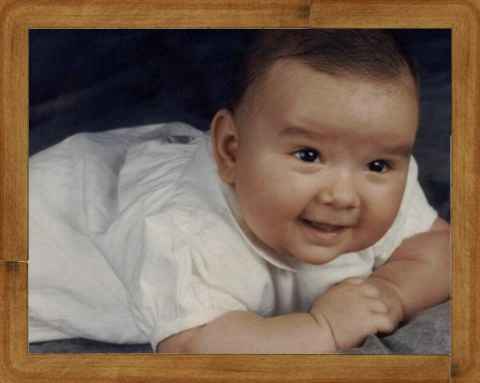 My parents often received compliments from strangers
for my "pretty eyes".

Between the age of six to seven months, it became obvious
that I still could not turn the way other babies in the same
age group could. A visit to a children's doctor clearly confirmed
that it was just my "laziness" , I am just a heavy baby and it simply
takes a little longer with some children, but, because my mom continued
to ask why, we were told we should go to physiotherapy.
I really didn't want this because I had a Therapist, that had no clue
and, other than that, it was just a normal physiotherapy
practice, therefore, the therapy was, at some point, cancelled.
At the age of 9 months, I could turn while lying ,
but as far as mobility is concerned, this would be,
for the moment, the only advancement made.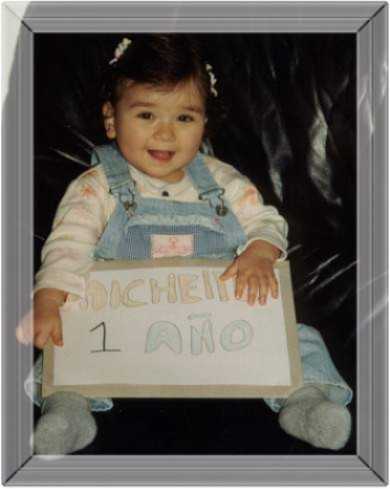 At the age of 12 months, my Odyssey went through
very many clinics. At the same time I began Voijta physiotherapy,
which I did not like at all.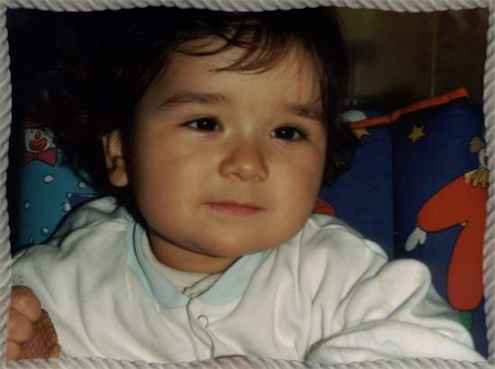 After four months of intensive Voijta physiotherapy,
I changed to Bobath. That was much better, and I was able to
obtain partial success in my development until the age of three.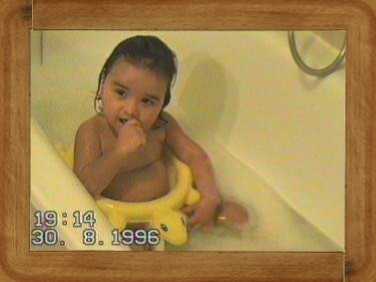 My biggest problem is my extreme Hypotonia, that means
I have an extreme "floppy" muscle tone, that has prevented
me from walking, crawling, or even sitting, till this very day.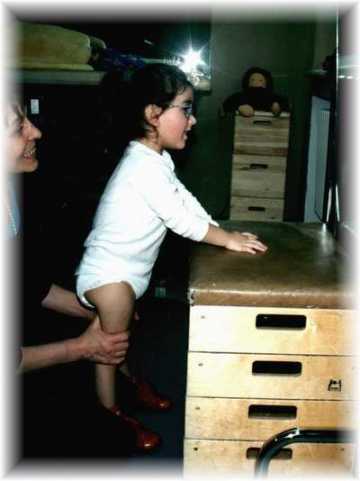 With the use of Bobath-Therapy, I was able to somewhat
stabilise my muscular system . I had a great therapist,
and that is very important for a successful therapy.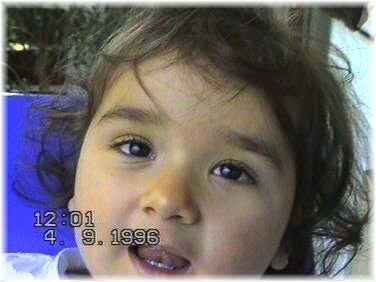 The entire time, I visited many different Clinics. Siegen,
Goettingen, München, Mexiko and very often, Marburg.
But , after all the tests, the same diagnosis:

DIAGNOSIS UNKNOWN!!

At the age of two I was confronted with the possibility of Rett-Syndroms
for the first time. However, it was not confirmed due to the abnormal
course of my illness.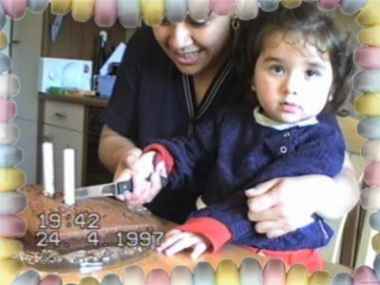 The discussion over Rett-Syndrom was always with us.
All the professionals agreed I have a lot of the symptoms of
Rett-Syndrom , but, the definite, typical symptoms were not there.




I never reached a development plato, and my course
of development was very slow. Even my social
contact was very good.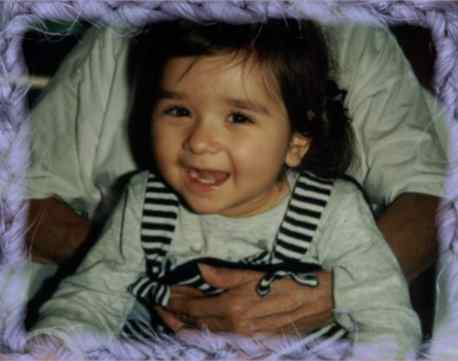 I like to laugh a lot and love to be together with a lot of people. Of course, I was and still am the center of attention and that's what I like the most

When I was three, my parents found out about, through the Internet, an American method of therapy, which, in Germany, is disputed, but has been proven to be a very good therapy. For my parents it was a good enough reason to try it. They then ordered the book:

"What can you do for your brain injured child?"


by Glenn Doman

In the mean time, we visited Florence Scott, who is invited
2-3 times a year from a self-help group near Stuttgart.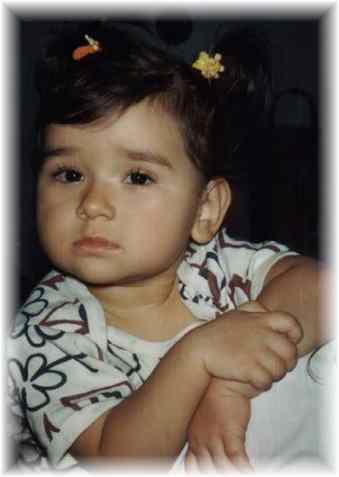 Florence worked together with Glenn Doman for many years
and developed a form of therapy that is not so intensive
as Doman's. Even Florence recognised the possibility of Rett-Syndrom ,
but the missing "typical" symptoms was still the discussion.
We tried the therapy with the help of friends, acquaintances,
and neighbours which worked out very well.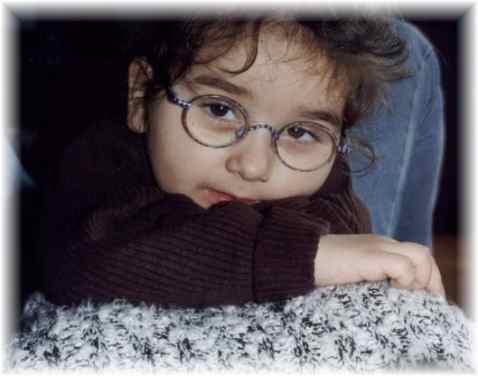 There was noticeable success , and this gave my parents the courage
to take a video course by:
"the institutes of the human potential"
My parents introduced this in Mexico-City and it included the plan
o try the therapy in Mexico with my mother, grandmother and grandfather.

In August 1998, we traveled to Mexico and began to work intensively
with Domans method. Like expected, it was not boring for me.
It was even fun, and I quickly made small amounts of progress,
especially with my Hypotonia. I made progress on the Ramp.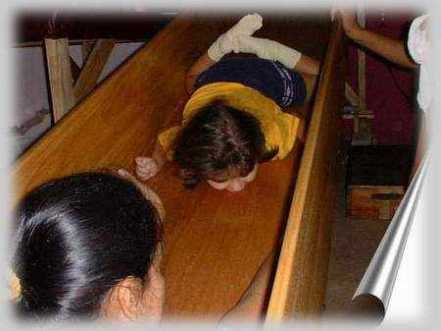 Then I was back in Germany with my mother, in the summer of 1999,
I got in adition Epilepsie and had to stay in the hospital
for a long period of time.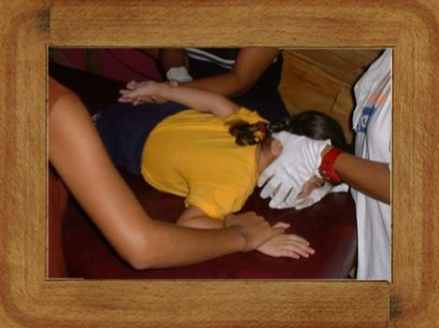 I was put on Tegretol and, after a long break, I was able
to continue with my therapy. Once again we tried, with great intensity,
the Doman's method, which I still enjoyed.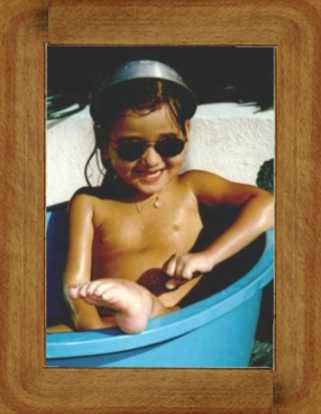 After the discovery of the MECP2-Mutation in September 1999,
my blood was sent to Stanford-University in January 2000 to be tested.
The Mutation was found:
"C502T leading to R164X"
With the other Symptoms that I also have, a diagnosis of
Rett-Syndrom was made. The questionable metabolism illnesses were
already out of question.

I now train Bobath,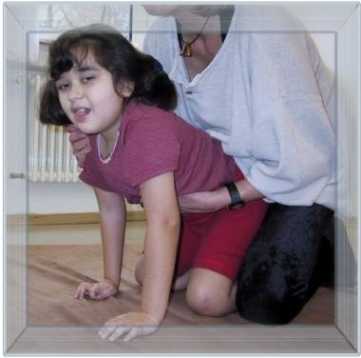 do Hyppotherapy, Watertherapy, and train
my hand skills and communications.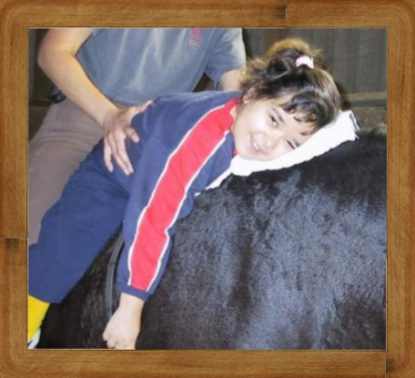 I am doing very good, physically. My weight is pretty high,
have a good appetite, however, I have not made any progress
with my mobility skills.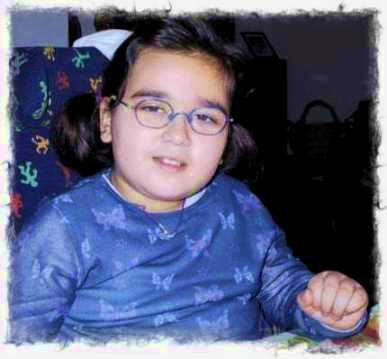 I go to the integrated kindergarden in Herborn-Burg,
which is a lot of fun for me. Even the other children in my
group enjoy being with me.

-Textbeginn